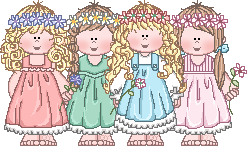 Read Please: These tips are original and exclusive to OPW Mall. Feel free to use them for your personal embroidering and quilting needs, however, it is strictly prohibited to publish them without permission.
Watch for new tips as they are added to the top of this list.
Before embroidering a design, take some time and make sure you will be using the right type of stabilizer for the fabric you will be working on. Sheer fabrics or two-sided patterns need a water-soluble stabilizer that will dissolve when it is washed. Lightweight or stretchy fabrics with a loose weave require a cutaway stabilizer that will hold the design stitches in shape. A light tear-away is ideal for sturdier fabrics. If you are working with fleece, terry or other high-nap fabrics, place a top piece of water-soluble stabilizer. This will keep the embroidery stitches from sinking into the nap and will stop the fibers from showing between the embroidery stitches.
If the outline does not align with the rest of the design, don't assume it is a bad design, it can be a sign that the fabric was not properly stabilized.
If the design has a great deal of satin stitches, it is always a good idea to slide an extra piece of stabilizer under the hoop .
There are many beautiful lace designs for machine embroidery available. Although the designs are dense with thread, they do need tulle to hold together. Heavy weight water soluble stabilizer is perfect to keep the tulle stable in the hoop while the design is stitched out.
Heirloom Sewing requires to stabilize the lace before stitching it. Use a good quality stabilizer and always test a small piece of the lace before spraying the stabilizer over a large area. Some sprays can bleach either the fabric or the lace.
It can be tricky to cut excess cut-away backing close to the embroidery without accidentally also cutting the fabric. The best method is to hold the embroidery up by the backing with one hand, backside facing you, with a strong light source behind. The weight of the fabric will pull down, and with sharp scissors in your other hand you can trim very close to the embroidery edge.
Remember that different stabilizers have different density tolerance. If you are stitching a higher density design, slip another piece of stabilizer under your hoop at a 45 degree angle to support the stitch count.
When using a light weight cotton for embroidery, add a light touch of spray starch to the fabric.
Keep your water soluble stabilizer in a plastic bag so that it does not dry out or get exposed to excess moisture.
Many designs have the last color an outline color. When stitching these on shirts and baby cloths (or anything that comes against the skin), slide a piece of light soft cutaway or fabric under your hoop before stitching. Stitch this color an then trim close to stitching. This will keep the design soft to the skin.
Not all stabilizer can be ironed with steam after you have embroidered. Before ironing with steam, check a sample piece of stabilizer with your iron and steam. Some stabilizers will shrink. To use this stabilizer, preshrink with your iron prior to embroidering your item. You will then be able to iron your item after your have embroidered it.
With water soluble stabilizers (WSS) being a bit pricy, most of us hate just tossing out the scraps. Keep those scraps close to your sewing machine in a Ziploc bag and use them as stabilizer when stitching long rows of decorative stitches on your sewing machine. These extras also work beautifully under buttonholes.
Save those extra pieces of heavy-duty water-soluble stabilizer (WSS) - like BadgeMaster or Aquafilm - for use in making buttonholes where you don't want stabilizer to show. Long strips of WSS scraps can also work well to stabilize long lines of decorative machine stitching or chains of embroidery.
I've recently been reminded of a need for the knowledge of stabilizer basics for the best embroidered projects. I've been reading stories about crafters using paper towels, plastic wrap, and all types of other paper goods to stabilize. Please, from a digitizer who puts a lot of time into creating quality designs, use a quality stabilizer that is best suited to both the design and the project piece. Tear away stabilizers are fine for light, woven fabrics and can be ideal when you don't want the itchy remnants of a cut-away on the back side of the embroidery. If you're working with stretch knits, I can't stress enough to use a quality cut-away stabilizer for best results. (Editor's Note: always try different stabilizers and use what works best for you based on your research and trials, and always buy the best that YOU can afford.)
If you're new to embroidery on fleece or other fuzzy fabric, and a bit frustrated with the fuzz peeking through your design, adding the right stabilizer layer will give you great results. In addition to the stabilizer under your fleece, add a layer of water-soluble stabilizer on top and stitch as usual. This should cure those icky pokies. You can add a layer of tulle or organza on top as well for even more control. Just gently tear or cut away the excess around the edges when you're done stitching.)