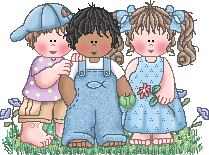 Read Please: These tips are original and exclusive to OPW Mall. Feel free to use them for your personal embroidering and quilting needs, however, it is strictly prohibited to publish them without permission.
Watch for new tips as they are added to the top of this list.
Cut your old jeans into 6 1/2" squares. Before you know it, you will have enough blocks to make a quick rag quilt.
When sewing quilt pieces on the diagonal. Use a fabric glue stick, place a piece of scrap stabilizer along your seam line. Sew your seam. This helps to keep from stretching that seam!
With today's easy to use color scanners, you can make up a sample of your next quilt block. Scan your fabric and printout onto white card stock. Cut your quilt patterns out of your paper fabric. Do not include the 1/4" seam. Assemble the pieces together and viola - you can see your block in fabric. Glue these down on another piece of card stock and you have a nice paper quilt block to frame! or rescan the block and shrink it, print out these smaller versions of your block and create your paper quilt! This is a great way to see how your quilt will come together.
You can make a quilting template with your embroidery machine. Select a quilting pattern and place cardstock in the hoop. Stitch the quilting pattern (do not thread your machine). Your machine will punch holes in the cardstock. Remove the cardstock and you can now chalk the pattern onto your quilt. Using a chalk eraser and fabric chalk, place your template on your quilt, rub your chalk filled chalk eraser on the pattern. the pattern will transfer to the quilt. Lift and repeat! This is a quick way to mark a quilt.
Quilters can make use of lightweight water-soluble stabilizer (WSS) for free-motion quilting that won't mark up your precious quilt top. Lay the transparent WSS over the pattern to be quilted and trace it with a permanent marker. Place this over the desired area of your quilt that has been LIGHTLY spritzed with water - to make it sticky - and quilt through the stabilizer and the quilt sandwich. The stabilizer will disappear when you wash your finished quilt.
Marking a quilt can be a very time consuming process. To mark quickly, try the Pounce. This is a powder marking pad that the marking disappears with ironing. You lineup your quilting stencil on your quilt and gently tap and rub with the special Pounce brush. Your outlines will be transferred to your quilt and you are now ready! Quilts can be marked in no time at all!
A photocopier is great for making your quilting template a little bigger or smaller to fit the area that you need. Most photocopiers allow you to enlarge or reduce by a percentage
Have you forgotten that your embroidery machine can be used to quilt? It's easy to get in the habit of thinking of the machine in terms of full stitch-outs and appliqué. When you're considering the finishing touches for your quilt, you can save yourself time by letting the machine do the quilting stitches, too. Use a water-soluble stabilizer (WSS) in the hoop, and it will simply wash away when you launder your finished quilt.