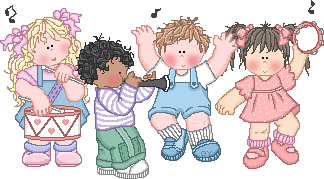 Read Please: These tips are original and exclusive to OPW Mall. Feel free to use them for your personal embroidering and quilting needs, however, it is strictly prohibited to publish them without permission.
Watch for new tips as they are added to the top of this list.
Before choosing a design, consider the type of fabric you will be working with. Lighter designs with open spaces are better for lighter-weight fabrics because they will allow the fabric to drape properly. Fabrics with nap need more dense designs in order to cover the fabric. Choosing the best suitable designs for the type of fabric you will be using for a project will make the difference in obtaining the best appearance on your embroidery.
If you are having trouble blending fabric for a quilt, look along the edging of the fabric. Most have dots of solid color of the colors used in the fabric. This can make it much easier to blend and match.
Don't forget textured fabrics when considering your applique projects. Could a little furry fleece or even a velour print add 3D life to your project? Keep a stash of 1/8 to 1/4 yard pieces of that spendy, but oh so soft, furry fleece on hand for projects that call for sheep or even for fuzzy little applique aliens!
When you buy specialty fabric from the fabric store, make sure to make a note to yourself with the laundering instructions for the fabric. As we all know, sometimes that piece of fabric needs to wait for just the right project. Pin the instructions to the fabric on include it in a clear bag with the fabric.
Did you know that you can print directly on fabric using your printer (laser or ink-jet) without pre-treating the fabric? I use a temporary spray baste to stabilize the fabric with a plain sheet of paper and then feed it through just as I would paper. After printing, cover with a pressing cloth to protect your iron, and press to heat-set the ink. With this, you can use our scanner and wrapping paper (or any other pretty paper) to print your own fabric for use with designs or other projects. (Editor's Note: NEVER run adhesive spray baste through your printer. Instead, press your fabric to a sheet of freezer paper, cut to size - 8½"x11" for regular paper size - and run through. If any wax from the freezer paper happens to get inside the printer, it will act as a lubricant. Adhesive will gum up the inside of the printer. My printer tech friend gives you this advice with love!)
A healthy stock of fabric scraps is a great resource for applique on your embroidery machine. Keep an eye out at thrift stores and yard sales for packaged scraps. You only need a couple of inches to make all the difference in getting just the look you want to fill in that applique space. Organize your scraps by color groupings as you get them to help make a quick choice - mine even get arranged within the color groups into prints and solids. (Editor's Note: small, clear boxes and Ziploc bags are perfect for sorting scrap fabrics.)
When quilting, make sure that you treat the fabric the way that you will be treating it after you have completed your project. If you are making a quilt and plan on washing the fabric, make sure that you have washed all the fabric prior to cutting and stitching. You would not want one fabric shrinking and another stretching!
Applique doesn't always mean you have to use cotton quilting fabrics. There are plenty of fun fabrics available that can add texture and dimension to your design. Take a stroll through the fake furs and plush fabrics at your local fabric store and start to imagine sheep and monster designs that touch you back. The price of these fabrics can be high, but if you only need 1/8 to 1/4 yard pieces for applique, then it becomes quite affordable to play with. Take a friend, or group of friends, shopping to split and share those 1/8 to 1/4 yard pieces into workable applique squares. You'll end up with a nice stash assortment for everyone for very little money.
Denim is a fabric that stretches in more than one direction. When stitching on Denim, use a solvy on top.
The next time you're dreaming about what to do with all those quilt fabrics and you just can't choose from a whole wall, try purchasing several 1/8 to 1/4 yard pieces of your favorites to add to your applique stash. Also, be sure to think of applique when sewing friends are de-cluttering their sewing rooms. It only takes a couple of inches to cover an applique area. Great applique projects start with a variety of fabrics to choose from so that you are sure to get just the color and texture you desire.