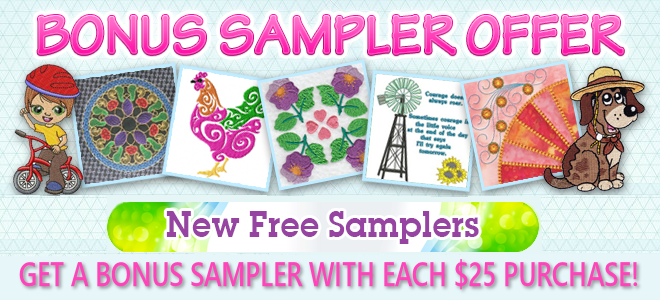 Choose A FREE SAMPLER for every $25 you spend...(see directions below)
(If you spend $50, you get 2 samplers, spend $75, you get 3 samplers, etc).
DIRECTIONS TO GET FREE SAMPLERS:
1. Shop for designs and checkout. Bring your total to $25 or more. Jot down the cart # (lower left corner of shopping cart). Check out.
2. Click the thumbnails on Sampler Index page to browse. Jot down the name(s) of the ones you want. EXAMPLE:  The first thumbnail on the Sampler Index goes to Spring2017 Sampler 01 and you get all 8 designs shown on that page.
3. Send your list and cart # to support@oregonpatchworks.com. Give us 48 hours to set up the downloads. We will email you the link.
Thank you for shopping with us at OPW Mall!