Need to register a new email address? Click HERE.

Help us grow on Google, write a review: http://tinyurl.com/OregonPatchWorks

Want to receive the newsletter via email plus get new sample designs weekly? Sign up HERE.



The Lord is ready and willing to listen. When you pray, just speak to Him as you do a good friend. He will answer you. He is faithful and your faith will increase as you seek Him. The scripture here is King James.

Dear Lord, We know that we don't have the wisdom to solve life's problems, without seeking guidance from you and those who follow you. Cause us to conduct ourselves in all things as you want us to. Put in place what is needed for deliverance from the things we do not understand or have any control over. Humble our minds and open our hearts to receive your wisdom. In Jesus name, Amen

Proverbs 1:5A wise man will hear, and will increase learning; and a man of understanding shall attain unto wise counsels: 6To understand a proverb, and the interpretation; the words of the wise, and their dark sayings. 7The fear of the LORD is the beginning of knowledge: but fools despise wisdom and instruction.
Need prayer? Contact Jackie

NOTE: To see the collection/single pictured, click the name of the set. To go to the designer's index page, click the offer button.To get a complete list of all the offers currently available at OPW Mall, GO HERE

This great alphabet is by Aljay Designs.  Each week thereafter, we will put three new letters up on Aljay Designs website for you to download. Go to their section and look around for fantastic, colorful designs while you are there!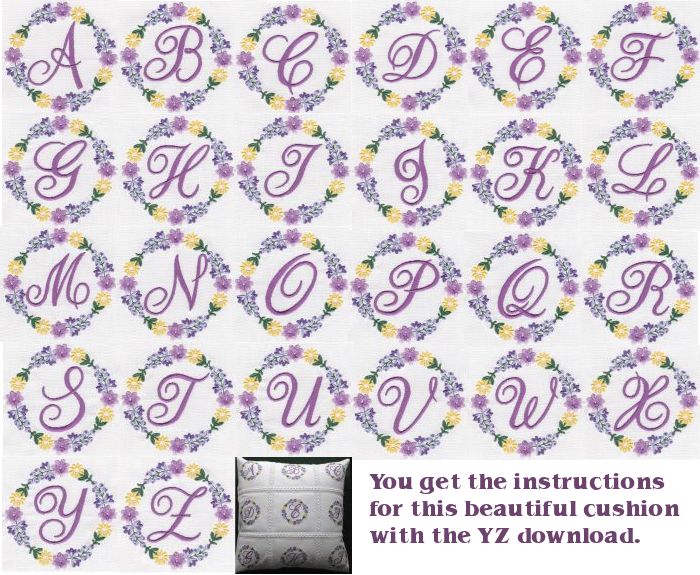 1) If you struggle to stitch on, or with fleece fabrics, try lowering your upper thread tension.

2) Have a fun day with the kids by stitching line work designs onto t-shirts that they can then color in with fabric crayons, then follow manufacturers instructions if any color setting is applicable.

Do you have a quick solution or idea to share? Email us at support@oregonpatchworks.com

Send us your favorite recipe and we'll share it here on the newsletter. Send your entry to support@oregonpatchworks.com
Here's a fast and easy chili for you to try, it turned out great! It makes a big batch, filled up the 8 qt. p@t, just half the recipe if you don't want leftovers or if you have a smaller pressure cooker.
QUICK BEANS
To make a big batch of beans in the IP@t ahead of time, wash 2 qts of beans, throw them into the IP@t, add water up to 2/3 full, push the "bean" button and let her cook, takes 30 min-if you have a smaller pressure cooker, HALF this, you can't fill more than half of beans and up to 2/3 water)
JACKIE'S QUICK CHILI
1 large onion, chopped
12-15 large crimini or white mushrooms, chunks
12 oz frozen corn
12 oz frozen adamame beans
1 bunch kale, chopped
1 quart potato chunks
2 cups carrots, chunked
4-5 stalks celery
2 quarts cooked black beans
3 quarts water
1 qt. salsa
1 jar spagetti sauce
1 lg can chopped tomatoes (or equiv. of fresh tomatoes)
8-10 cloves garlic, minced
3 Tbl new mexico chili powder (mild)
1 tsp. spicy chili powder (hot)
2 Tbl. smoked paprika
1 tsp. chipotle chili powder
2 tsp. cumin
2 tbl salt
Mix the water, spices, salsa and spagetti sauce together. Set aside the chopped tomatoes and kale. Add the rest of the vegetables and beans to the p@t, no need to stir. Pour the water/spice mixture over top. No need to stir. Dump tomatoes on top, then cover with kale. Set the knob to Sealing, click Manual and set timer to 3 minutes. When done, allow natural release of pressure. Mmmmm....

Great designs are exclusively available in the member's area. You need to log in to get them.
Login Instructions:
Go HERE, and type in your email address. Click the image below "Exclusive Samples" heading. On the next page, click the different months to download designs. . To view each digitizer's page, click the images or their names below. Check back often, new samples are added weekly!

We have fun activities that you can enjoy in the MOC. Login HERE, click the link under Sensational Samples, then find the references to Mystery Design and Challenge Question.
| | | | |
| --- | --- | --- | --- |
| | | | |
| Search & Find Design | Challenge Question Design | Search & Find Design | Mystery Design |
| Hidden in | | Hidden in | Hidden in |
| | | | |