| | | |
| --- | --- | --- |
| We send the weekly newsletters every Monday. Sign up | | Volume 542 March 20, 2017 |


Genesis 1:11 And God said, Let the earth bring forth grass, the herb yielding seed, and the fruit tree yielding fruit after his kind, whose seed is in itself, upon the earth: and it was so.
Genesis 1:12 And the earth brought forth grass, and herb yielding seed after his kind, and the tree yielding fruit, whose seed was in itself, after his kind: and God saw that it was good.
Genesis 1:21 And God created great whales, and every living creature that moveth, which the waters brought forth abundantly, after their kind, and every winged fowl after his kind: and God saw that it was good.
Genesis 1:24 And God said, Let the earth bring forth the living creature after his kind, cattle, and creeping thing, and beast of the earth after his kind: and it was so.
Genesis 1:25 And God made the beast of the earth after his kind, and cattle after their kind, and every thing that creepeth upon the earth after his kind: and God saw that it was good.
Dear Lord, Thank you for creating this beautiful, abundant earth for us. Remove the scales from our eyes so that we clearly see the truth regarding you and our relationship to you. Give us each a measure of faith, so we have a clear directoin to follow you. Help us get back to basics of living a simple, clean life. In Jesus name, Amen
The scripture here is King James version.
The Lord is ready and willing to listen. When you pray, just speak to Him as you do a good friend. He will answer you. He is faithful and your faith will increase as you seek Him. Need prayer? Contact Jackie

NOTE: To see the collection/single pictured, click the name of the set. To go to the designer's index page, click the offer button.To get a complete list of all the offers currently available at OPW Mall, GO HERE

1) Clutter Chaos: Do you have stacks of unfinished projects? Scraps and spools of thread everywhere? Then do yourself a favor! Set aside an hour, or a day, to finish those UFOs. Give yourself a treat and then spend some time cleaning up after yourself. You'll be able to stitch in a much better frame of mind!
2) Color Choices: When choosing machine embroidery designs, remember that you don't have to use the exact same colors as the designer did! Even very intricately shaded designs can be stitched using different colors with a bit of patience. Open your stitching world to the infinite uses of color!
Do you have a quick solution or idea to share? Email us at

[email protected]

| | |
| --- | --- |
| | We have many great offers all the time! It is especially important to check at the beginning of the month, as many offers change at that time. Currently, many of the sites are on sale at OPW Mall with promotions, discounts and gifts for you. This is the page to bookmark. |
| | We are so proud of our new thread line! Each spool has a matching bobbin that fits perfectly in the base for safe storage. There are a total of 208 colors (you can download a pdf color chart or order one that shows you actual thread of each color). This is beautiful, high quality polyester and each 1100 yd spool is only $3.25! Or get even more when you choose the kits! Check it out! |

This great alphabet is by Crafty Creations. We will post 3 new letters each week...enjoy!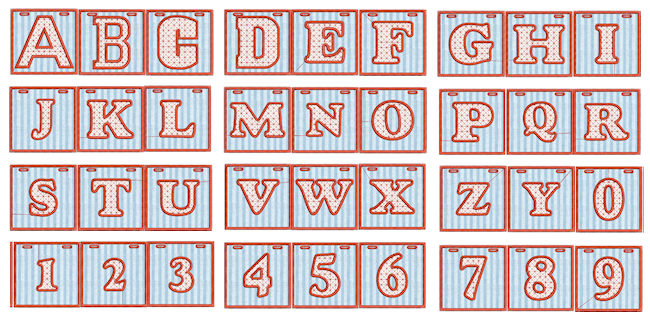 Great designs are exclusively available in the member's area. You need to log in to get them.
Login Instructions:
Go HERE, and type in your email address. Click the image below "Exclusive Samples" heading. On the next page, click the different months to download designs. . To view each digitizer's page, click the images or their names below. Check back often, new samples are added weekly!

We have fun activities that you can enjoy in the MOC. Login HERE, click the link under Sensational Samples, then find the references to Mystery Design and Challenge Question.
The four designs below are available this month.
| | | | |
| --- | --- | --- | --- |
| | | | |
| Search & Find Design | Challenge Question Design | Search & Find Design | Mystery Design |
| Hidden in | | Hidden in | Hidden in |
| | | | |
Need to register a new email address? Click HERE.