Need to register a new email address? Click HERE.

Volume 521 September 26, 2016

Help us grow on Google, write a review (please include a text message, along with "stars"): http://tinyurl.com/OregonPatchWorks



The scripture here is King James version.

1 Peter 3:8Finally, be ye all of one mind, having compassion one of another, love as brethren, be pitiful, be courteous: 9Not rendering evil for evil, or railing for railing: but contrariwise blessing; knowing that ye are thereunto called, that ye should inherit a blessing. 10For he that will love life, and see good days, let him refrain his tongue from evil, and his lips that they speak no guile: 11Let him eschew evil, and do good; let him seek peace, and ensue it. 12For the eyes of the Lord are over the righteous, and his ears are open unto their prayers: but the face of the Lord is against them that do evil. 13And who is he that will harm you, if ye be followers of that which is good?
Dear Lord, Keep us in check and help us remember to treat others kindly. If we start getting frustrated, show us clearly what we need to do to change and give us the courage to make the changes needed to align ourselves with you.. In Jesus name, Amen
The Lord is ready and willing to listen. When you pray, just speak to Him as you do a good friend. He will answer you. He is faithful and your faith will increase as you seek Him. Need prayer? Contact Jackie

NOTE: To see the collection/single pictured, click the name of the set. To go to the designer's index page, click the offer button.To get a complete list of all the offers currently available at OPW Mall, GO HERE

Send us your favorite recipe and we'll share it here on the newsletter. Send your entry to support@oregonpatchworks.com Let us know how you like the recipes posted!
Best Ever Vegan Buckwheat Pancakes
Try these yummy pancakes whenever you have a hankerin' for rib sticking nutrition.
Wet Ingredients:
1/4 cup unsweetened applesauce
1 3/4 cup almond milk*
2 tsp. vanilla
1 TBL. vinegar or lemon juice
Optional: Small amount of coconut or other cooking oil to grease giddle or pan.
*You can make your own almond milk: Soak 1 cup raw almonds in pure water and a little salt for 24 hours. Drain and rinse. Add 2 cups water to soaked almonds in a high speed blender. Blend on high for 2 minutes. Strain through a mesh bag. The milk will last 2 days in fridge. Save the pulp to add to cookies.
Dry Ingredients:
1 1/2 tsp. baking powder
1/2 tsp. salt
1 1/2 cup buckwheat flour*
*You can make fresh buckwheat flour (or any flour) in a high speed blender. Add 1 1/2-2 cups raw buckwheat groats, blend on high for 20-30 seconds or until the consistency you want.
Mix together applesauce, milk and vanilla. In a separate bowl, mix/sift the dry ingredients. Add the wet ingredients and blend lighly with a spatula. Add lemon juice and mix in. The batter will be really thick.
Heat griddle/pan on medium to medium high heat. Add small amount of oil and spoon 1/4-1/2 cup batter into the pan (you can do 2-3 pancakes at a time, depending on pan size). Flip the pancakes when the bubbles that form pop and do not fill in again. Cook until browned but still light and fluffy to the touch. Add your favorite topping and enjoy!

1) Old, decorative tins are a wonderful way to store your embroidery and crafting notions, to break of the monotony of ordinary storage styles. Check your local thrift shops during Winter months as a fantastic resource for collecting yours.


2) Now is a good time to start thinking about stitching fast and fun, machine embroidery projects, that can become gifts for people in homes for the elderly, senior centers and more!

Do you have a quick solution or idea to share? Email us at support@oregonpatchworks.com

| | |
| --- | --- |
| | We'll be in the Los Angeles area (Anaheim, California) for the Celebrate Sewing Expo on October 15 asnd 16! Michele Mishler of MM Embroidery will be teaching Paper Piecing Meets In-The-Hoop and Think Outside the Hoop and is having an Embroidered Trunk Show and OregonPatchWorks will have a display booth. Sign up for classes now! |
| | Have you read the great articles on the OPW Mall blog? This week, Hazel of Graceful Embroidery shares her thoughts on combining designs and discusses their uses. In the coming weeks, you will find a treasure trove of fun on the blog. |
| | We have many great offers all the time! It is especially important to check at the beginning of the month, as many offers change at that time. Currently, EVERYONE is on sale at OPW Mall with promotions, discounts and gifts for you. This is the page to bookmark. |
| | We are so proud of our new thread line! Each spool has a matching bobbin that fits perfectly in the base for safe storage. There are a total of 208 colors (you can download a pdf color chart or order one that shows you actual thread of each color). This is beautiful, high quality polyester and each 1100 yd spool is only $3.25! Or save even more when you buy the kits! Check it out! |

The designs below are "hidden" in plain sight on one of designers' collection pages. Look through their sets and find them so you can download them! (NOTE: On Design By Lizette's design, it is the first in a series of 6 search and find designs Lizette will be releasing one every two weeks)! Have fun!
This great alphabet is by Mar-Lena Embroidery. We will post 3 new letters each week...enjoy!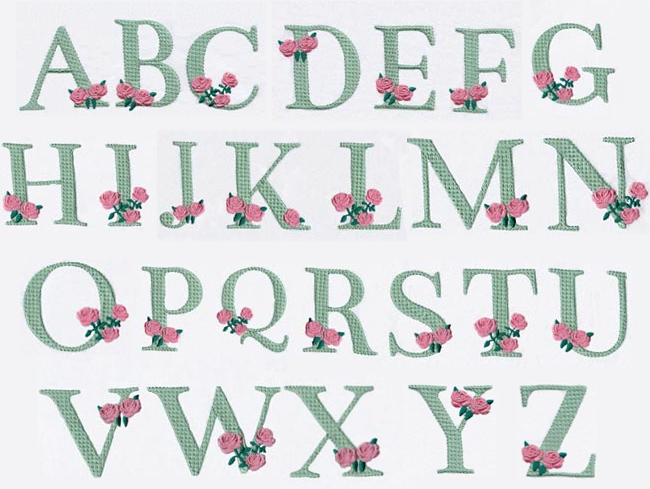 Great designs are exclusively available in the member's area. You need to log in to get them.
Login Instructions:
Go HERE, and type in your email address. Click the image below "Exclusive Samples" heading. On the next page, click the different months to download designs. . To view each digitizer's page, click the images or their names below. Check back often, new samples are added weekly!

We have fun activities that you can enjoy in the MOC. Login HERE, click the link under Sensational Samples, then find the references to Mystery Design and Challenge Question.
| | | | |
| --- | --- | --- | --- |
| | | | |
| Search & Find Design | Challenge Question Design | Search & Find Design | Mystery Design |
| Hidden in | | Hidden in | Hidden in |
| | | | |