Need to register a new email address? Click HERE.

Help us grow on Google, write a review (please include a text message, along with "stars"): http://tinyurl.com/OregonPatchWorks

Want to receive the newsletter via email plus get new sample designs weekly? Sign up HERE.



The Lord is ready and willing to listen. When you pray, just speak to Him as you do a good friend. He will answer you. He is faithful and your faith will increase as you seek Him. The scripture here is King James.

Dear Lord, Teach us your ways and give us the strength to walk uprightly in your light. Write our names in the book of remembrance and claim us as your own. Thank you for the gift of life that you give those who call on you. In Jesus name, Amen

Malachi 3:16Then they that feared the LORD spake often one to another: and the LORD hearkened, and heard it, and a book of remembrance was written before him for them that feared the LORD, and that thought upon his name. 17And they shall be mine, saith the LORD of hosts, in that day when I make up my jewels; and I will spare them, as a man spareth his own son that serveth him. 18Then shall ye return, and discern between the righteous and the wicked, between him that serveth God and him that serveth him not.
Need prayer? Contact Jackie

NOTE: To see the collection/single pictured, click the name of the set. To go to the designer's index page, click the offer button.To get a complete list of all the offers currently available at OPW Mall, GO HERE

Do you LOVE mug rugs? Then you need to get The Ultimate Mug Rug CD (downloadable or hard copy)! In this mega collection, you get FORTY fantastic mug rug patterns with instructions by Oma's Place for a very low price! Check it out!

The entire line of the Original Word Play designs has been moved to Lickity Stitch's section! And there are some new ones too! These are cross stitch designs BUT you don't need special software or applications to sew these machine cross stitch designs. You treat these designs just like any "regular" machine embroidery design! The designs are digitized so your embroidery machine perfectly sews them in a "cross stitch" look.

We are also introducing a new series of the Let's Sew Ursula Michael Word Art in Satin Stitch, you can check it out HERE.

The design below is "hidden" in plain site in
Crafty Creation's
section. Visit now and download it.
This great alphabet is by Aljay Designs.  Each week thereafter, we will put three new letters up on Aljay Designs website for you to download. Go to their section and look around for fantastic, colorful designs while you are there!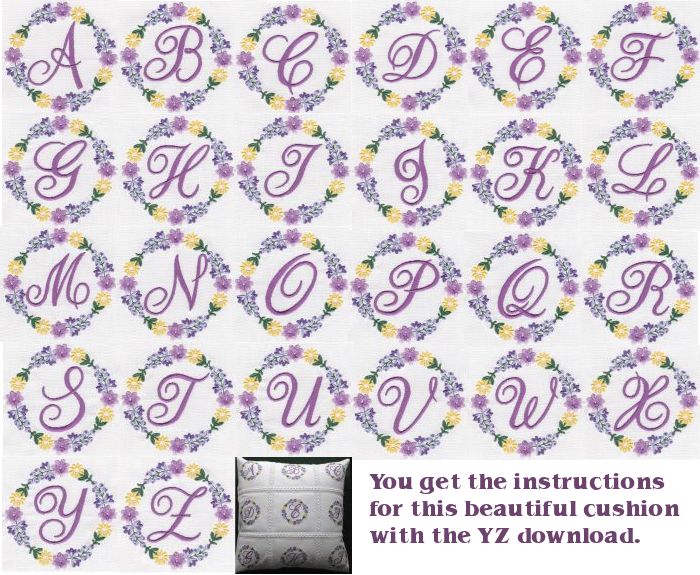 1) If you like to leave your needle in your machine between uses, and you find it hard to read the needle sizes, just write the size and type of needle on a post-it style note, and place it under your machine foot, drop the foot to secure the note, and you'll know at a glance, what size and type of needle is in your machine, next time you're ready to create.



2) If you're considering embroidering a tie for Dad's Father's Day gift, you'll want to center your design horizontally, 2 inches from the bottom tip of the tie. If the tie will be worn without a vest, measure 10 inches from the bottom tip, or whatever height will show the design above the vest when worn.

Do you have a quick solution or idea to share? Email us at support@oregonpatchworks.com

Send us your favorite recipe and we'll share it here on the newsletter. Send your entry to support@oregonpatchworks.com Let us know how you like the recipes posted!
Cole's Creamy Cauliflower Soup
4 cups broth
Head cauliflower cut into flowerettes
3 cups potatoes, large cubes
4 cups onions chopped
2 lg carrots chopped
1/2 cup celery sliced
2 Tbl tamari
2 Tbl cashews
1 cup thinly sliced kale
Put all ingredients except cashews and kale in the pressure cooker or saucepan. Pressure cook 8 min or bring to a boil and simmer until tender in a saucepan. Add the cashews and kale, blend until creamy and smooth.

Great designs are exclusively available in the member's area. You need to log in to get them.
Login Instructions:
Go HERE, and type in your email address. Click the image below "Exclusive Samples" heading. On the next page, click the different months to download designs. . To view each digitizer's page, click the images or their names below. Check back often, new samples are added weekly!

We have fun activities that you can enjoy in the MOC. Login HERE, click the link under Sensational Samples, then find the references to Mystery Design and Challenge Question.
| | | | |
| --- | --- | --- | --- |
| | | | |
| Search & Find Design | Challenge Question Design | Search & Find Design | Mystery Design |
| Hidden in | | Hidden in | Hidden in |
| | | | |