The Lord is ready and willing to listen. When you pray, just speak to Him as you do a good friend. He will answer you. He is faithful and your faith will increase as you seek Him. The scripture here is King James.

Dear Lord, Thank you for your loving kindness. Cause us to do the things that are pleasing to you. Keep us safe from harm and reveal your glory. Thank you for being so faithful and ever present in our lives.In Jesus name, Amen

Romans 8:28And we know that all things work together for good to them that love God, to them who are the called according to his purpose. 29For whom he did foreknow, he also did predestinate to be conformed to the image of his Son, that he might be the firstborn among many brethren. 30Moreover whom he did predestinate, them he also called: and whom he called, them he also justified: and whom he justified, them he also glorified. 31What shall we then say to these things? If God be for us, who can be against us?
Need prayer? Contact Jackie

NOTE: To see the collection/single pictured, click the name of the set. To go to the designer's index page, click the offer button.To get a complete list of all the offers currently available at OPW Mall, GO HERE

1) If your thread breaks during stitch-out, it's a good idea to make note of the stitch number it broken on, then you can re-start a couple of stitches before your thread broke, when resuming your embroidery, for a seamless repair.



2) Add a dimensional 'puffy' look to your redwork when you opt to sandwich a layer of quilt batting between your stabilizer and fabric.

Do you have a quick solution or idea to share? Email us at support@oregonpatchworks.com

Read a cute story about NNC ITH Mr. Ted! You will enjoy making these darling stuffed animals all in the hoop. You can see many more cute critters at NonnieNoo Creations, the creator of Mr. Ted.

The entire line of the Original Word Play designs has been moved to Lickity Stitch's section! And there are some new ones too! You do not need special software or applications to sew these machine cross stitch designs. These designs are digitized so your embroidery machine will sew in a "cross stitch" look. You treat these designs just like any "regular" machine embroidery design!

We are also introducing a new series of the Let's Sew Ursula Michael Word Art in Satin Stitch, you can check it out HERE.

Do you LOVE mug rugs? Then you need to get The Ultimate Mug Rug CD (downloadable or hard copy)! In this mega collection, you get FORTY fantastic mug rug patterns with instructions by Oma's Place for a very low price! Check it out!

The designs below will be available soon. Check out other great designs by the same designer by clicking the images.

| | |
| --- | --- |
| | Go to Crafty Crow Creations and look for this lipstick holder set. Download it when you find it! |
| | Go to Aljay Designs and look for this beautiful design. Download it when you find it! |
This great alphabet is by Heav'n Sent Creations.  We will post 3 new letters each week... enjoy!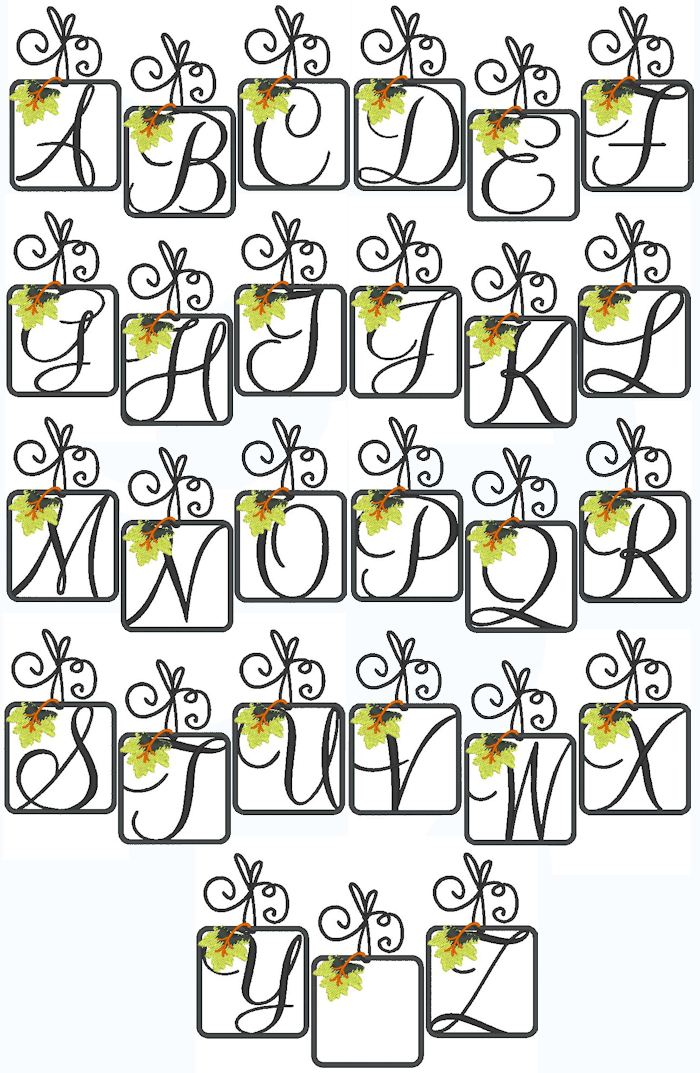 Send us your favorite recipe and we'll share it here on the newsletter. Send your entry to support@oregonpatchworks.com Let us know how you like the recipes posted!
Easy Fig Newtons
COOKIE DOUGH
1/4 cup (22.5 g) oats
1 cup (112 g) raw almonds
1 cup (100 g) raw pecans
1/4 tsp sea salt
1 1/4 cups (~250 g) firmly packed pitted dates (~23-26 dates | measured after pitting)
FILLING
8 ounces (227 g) dried black mission figs, stems removed (plus hot water for soaking)
1 tsp orange zest
1/4 tsp ground cinnamon
Pinch sea salt
8-10 pitted dates (to sweeten)
optional: 1-2 Tbsp (12-24 g) coconut sugar (to sweeten)
Instructions
Preheat oven to 350 degrees F (176 C) and arrange oats and nuts on a baking sheet. Bake for 8-12 minutes, rotating the pan near the the halfway mark to ensure even cooking, until golden brown and fragrant. Set aside.
Once slightly cooled, add oats, nuts, and sea salt to a food processor and process into a fine meal with salt. Remove from processor and set aside.
Add pitted dates to food processor and mix/pulse until small bits remain or it forms a ball. Scoop out and set aside.
Add nuts and oats back to food processor and spoon in the mixed dates. Mix/pulse until a loose dough is formed when squeezed between two fingers.
Spread the "dough" onto a clean parchment-lined surface and top flatten down with hands. Then top with another piece of parchment paper and use a rolling pin to flatten into a 1/4-inch thick sheet. Remove top sheet of parchment paper and use hands to form into a rectangle. Then halve with a knife so there are two equal strips.
Add figs (stems removed) to a mixing bowl and cover with hot (not boiling) water. Soak for 3 minutes, then drain but reserve fig water for later (to thin filling).
Add figs to food processor and blend into a ball (see photo), then add orange zest, ground cinnamon, salt and mix. Add reserved date water a little at a time until it starts to form a paste, but be careful not to add too much - you want it to be thick but spreadable.
Next add as many dates and/or coconut sugar as desired to sweeten and blend to combine. I used 10 dates and 1 1/2 Tbsp coconut sugar. However, you could also leave it as is.
Spread the fig paste (or transfer spread into a plastic or piping bag and "pipe") into 1-inch thick lines down the center of your two date-nut strips. Be careful not to add too much filling that your cookie dough can't fold over. You may have leftover filling (which can be reserved to add to baked goods, oatmeal, or future cookies).
Next use the parchment paper to gently roll the edges of the dough over the fig filling until your two dough ends meet. The dough may crack a little, but because it's moist it will reform as you continue rolling/forming. Like sushi, use the parchment paper to tighten and gently form the seams of the dough together.
For ease of transfer, cut both of the cookie logs in half and use a spatula or pie server to gently transfer to a parchment-lined baking sheet. Freeze for at least 30 minutes (up to 1 hour or overnight) to set/firm up. Then use a sharp knife to slice into roughly 1-inch slices. There should be about 22-24 cookies.
Enjoy immediately. Store in the refrigerator in a well-sealed container up to 1 week, or in the freezer up to 1 month! They're delicious and tender right out of the fridge.

Great designs are exclusively available in the member's area. You need to log in to get them.
Login Instructions:
Go HERE, and type in your email address. Click the image below "Exclusive Samples" heading. On the next page, click the different months to download designs. . To view each digitizer's page, click the images or their names below. Check back often, new samples are added weekly!

We have fun activities that you can enjoy in the MOC. Login HERE, click the link under Sensational Samples, then find the references to Mystery Design and Challenge Question.
| | | | |
| --- | --- | --- | --- |
| | | | |
| Search & Find Design | Challenge Question Design | Search & Find Design | Mystery Design |
| Hidden in | | Hidden in | Hidden in |
| | | | |
DISCLAIMER: WE DO OUR BEST TO NOT MAKE ERRORS. IN THE EVENT OF AN ERROR, WE HAVE THE RIGHT TO DEFAULT TO THE INTENDED PRICE AND NOT BE HELD ACCOUNTABLE TO THE ERROR.
WE HONOR A NO-SPAM POLICY. AS A MEMBER OF THE MOC AT WWW.OREGONPATCHWORKS.COM, YOU GET A WEEKLY NEWSLETTER EMAIL, NEW SAMPLES AVAILABLE TO MEMBERS ONLY, AND ANNOUNCEMENTS OF DISCOUNTS, SAVINGS AND EVENTS.
Unsubscribe me from this list