Need to register a new email address? Click HERE.

Volume 527 November 28, 2016

Help us grow on Google, write a review (please include a text message, along with "stars"): http://tinyurl.com/OregonPatchWorks



The scripture here is King James version.

1 Thessalonians 5:18 In every thing give thanks: for this is the will of God in Christ Jesus concerning you. 19Quench not the Spirit. 20Despise not prophesyings. 21Prove all things; hold fast that which is good.

Isaiah 40:31 But they that wait upon the LORD shall renew their strength; they shall mount up with wings as eagles; they shall run, and not be weary; and they shall walk, and not faint.
Dear Lord, Thank you for our blessings and for our trials. Thank you that we are here, alive, to work through another day. Give us a clear understanding of how awesome your gift of life is and keep us thinking of it in the right perspective, all day. When we grow weary and start to fall short, pick us up again, put us on our feet and keep us forever secure in your arms. In Jesus name, Amen
The Lord is ready and willing to listen. When you pray, just speak to Him as you do a good friend. He will answer you. He is faithful and your faith will increase as you seek Him. Need prayer? Contact Jackie

NOTE: To see the collection/single pictured, click the name of the set. To go to the designer's index page, click the offer button.To get a complete list of all the offers currently available at OPW Mall, GO HERE

1) Desktop, stackable, paper trays make a great storage system to keep different types of pre-cut stabilizer sheets separated by type, and at the ready for your embroidering needs.
2) Wrinkle release sprays can be wonderful to help eliminate hoop burn. To be sure that your fabric will not behave unfavorably, be sure to test the spray on a scrap first.
Do you have a quick solution or idea to share? Email us at support@oregonpatchworks.com

| | |
| --- | --- |
| | Get DOUBLE POINTS on Samplers! Spend $25 and get TWO BONUS SAMPLERS (each sampler has 8 designs)! NO LIMIT on how many you can get! |
| | We have many great offers all the time! It is especially important to check at the beginning of the month, as many offers change at that time. Currently, many of the sites are on sale at OPW Mall with promotions, discounts and gifts for you. This is the page to bookmark. |
| | We are so proud of our new thread line! Each spool has a matching bobbin that fits perfectly in the base for safe storage. There are a total of 208 colors (you can download a pdf color chart or order one that shows you actual thread of each color). This is beautiful, high quality polyester and each 1100 yd spool is only $3.25! Or save even more when you buy the kits! Check it out! |

The designs below are "hidden" in plain sight on one of designers' collection pages. Look through their sets and find them so you can download them! (NOTE: On Design By Lizette's There are 6 of this series of search & find designs by Lizette, she will be releasing one every two weeks)! Have fun!
Have you always thought about doing cross stitch on your embroidery machine, but have been afraid to try it? No need to shy away from this beautiful, fun form of machine embroidery. You can now get a wonderful variety of looks and textures, all with the ease of your machine... no need to do those cross stitches by hand in this modern world! To help you get started, Lickity Stitch, who does all kinds of designs, but specializes in cross stitch, has prepared a simple tutorial and sample designs. Couple that with the big 50% off and it is a perfect time to give it a try! Click the images below to go to Lickity Stitch and download the tutorial and samples.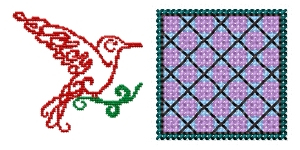 This great alphabet is by Mar-Lena Embroidery. We will post 3 new letters each week...enjoy!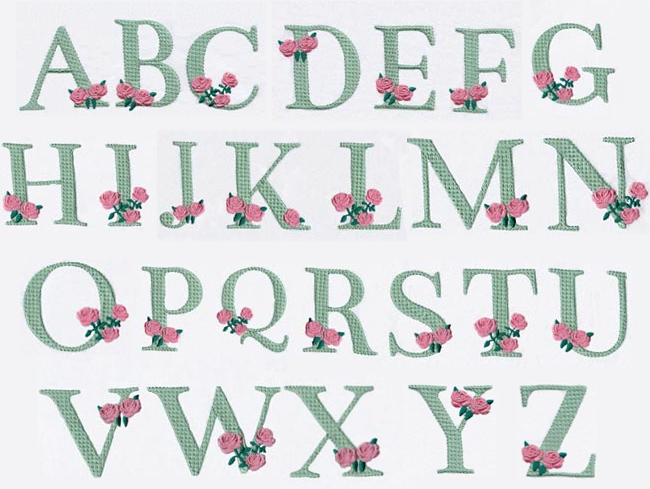 Great designs are exclusively available in the member's area. You need to log in to get them.
Login Instructions:
Go HERE, and type in your email address. Click the image below "Exclusive Samples" heading. On the next page, click the different months to download designs. . To view each digitizer's page, click the images or their names below. Check back often, new samples are added weekly!

We have fun activities that you can enjoy in the MOC. Login HERE, click the link under Sensational Samples, then find the references to Mystery Design and Challenge Question.
| | | | |
| --- | --- | --- | --- |
| | | | |
| Search & Find Design | Challenge Question Design | Search & Find Design | Mystery Design |
| Hidden in | | Hidden in | Hidden in |
| | | | |