DESIGNERS OF THE WEEK OFFERS


Dear Lord, Help us to be more faithful to your word and spend more time in prayer. Remind us of the important things in life and show us how to organize our time so we spend more time with you. Thank you for your faithfulness to us, please teach us how to be truly faithful to you. Fill us every day with your spirit and wash us clean of those things that are holding us back. We desire to be with you and learn how to live a life of righteousness. Thank you for being here for us. In Jesus name, Amen
If the scripture is hard to understand in the King James version, try reading it in the
New Living Translation version
Here
Put the chapter you'd like to view in the search and it will take you to it.
Hosea 10:
12 Sow to yourselves in righteousness, reap in mercy; break up your fallow ground: for it is time to seek the LORD, till he come and rain righteousness upon you.
Isaiah 45:
5 I am the LORD, and there is none else, there is no God beside me: I girded thee, though thou hast not known me:
6 That they may know from the rising of the sun, and from the west, that there is none beside me. I am the LORD, and there is none else.
7 I form the light, and create darkness: I make peace, and create evil: I the LORD do all these things.
8 Drop down, ye heavens, from above, and let the skies pour down righteousness: let the earth open, and let them bring forth salvation, and let righteousness spring up together; I the LORD have created it.
Revelations 4:
11 Thou art worthy, O Lord, to receive glory and honour and power: for thou hast created all things, and for thy pleasure they are and were created.

| | | |
| --- | --- | --- |
| | NEW DESIGNS ADDED THIS WEEK | |

Every week we have new designs to choose from, below are the sets/singles added this week. Click the image to see the new designs, click the name to see all of that digitizer's designs.

A beautiful new alphabet series! Each week, we put three more letters up for you to download! Click the image below, to go to Enigma Embroidery's site, where you will see the same image and download instructions. Be sure and look around, Riani has BEAUTIFUL designs!

Click the images below and search for the designs "hidden" in plain sight in one of the digitizer's collections. You'll have to search a little!

Sign in to answer the Riddle Question and win the design below.

| | | | |
| --- | --- | --- | --- |
| | | | |
| | | | |

Email: support@oregonpatchworks.com

Needle Nugget:  When was the last time you changed out your needle?  C'mon, be honest.  It's probably been a lot longer than you'd like to admit.  So, go ahead, change that needle.  An old needle can cause a whole list of issues from skipped stitches to pulled threads on your fabric.  A new needle not only works better, but you can actually HEAR the difference when it's in action.  And, while you're at it, why not throw away that old hand-sewing needle that you use for everything.  Your fingers deserve a fresh needle with a good, sharp point, too.

Email: support@oregonpatchworks.com

Hi Jackie, I hope that this is where I can say a big thank you, I am a volunteer for a cancer support group. Due to the financial difficulties that many organisations have that rely on donations, the cancer support group cannot afford to buy embroidery patterns or designs, with the downloads that you and your wonderful designers supply we are able to decorate and add a simple pleasure to the newly diagnosed cancer patients. We supply each newly diagnosed cancer patient with a care bag of goodies, most of the goodies are hand made by volunteers, in the bag is a little pillow to make the patient comfortable during treatment or after surgery, so I embroider little designs on the plain pillow cases to make the pillows look a little brighter and cheerful. With Our Lord Jesus Blessings on you all we say Thank you. With heart felt thanks kind regards Margaret
Dear Jackie, Here are some photos of a quilt I made for my SIL. It is the
Pearly Rose Quilt
from
Sweet Heirloom Embroidery
. The designs sewed out beautifully. It was a really big quilt but I was pleased with the way it turned out. Isabelle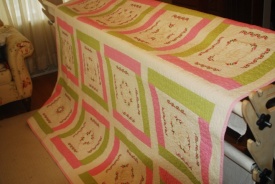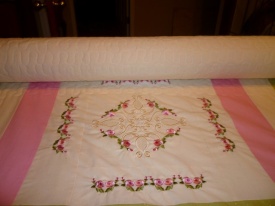 Great designs are exclusively available in the member's area.
Instructions: Go HERE, log in and follow the links to the Sensational Samples (current month) to download them. Check back often, new samples are added weekly!

May's Quilt - Simple Trips Quilts Pattern
| | |
| --- | --- |
| | DeDe Hallett of Hallett House Designs has generously provided monthly quilt block lessons. Login to the MOC and scroll down to download the instructions. |