Need prayer? Contact Jackie
The Lord is ready and willing to listen. When you pray, just speak to Him as you do a good friend. He will answer you. He is faithful and your faith will increase as you seek Him. The scripture here is King James, other versions available Here

Deuteronomy 28:1 And it shall come to pass, if thou shalt hearken diligently unto the voice of the LORD thy God, to observe and to do all his commandments which I command thee this day, that the LORD thy God will set thee on high above all nations of the earth:
Deuteronomy 28:2 And all these blessings shall come on thee, and overtake thee, if thou shalt hearken unto the voice of the LORD thy God.
Dear Lord, Open our eyes and minds and give us a clear view of what you want us to do. We want to serve you and overcome our selfish desires and humbly ask for the strength to do this and to be pleasing to you. Thank you for the power you lend us so we ca overcome the world. In Jesus name, Amen

NOTE: To see the collection/single pictured, click the name of the set. To go to the designer's index page, click the offer button.To get a complete list of all the offers currently available at OPW Mall, GO HERE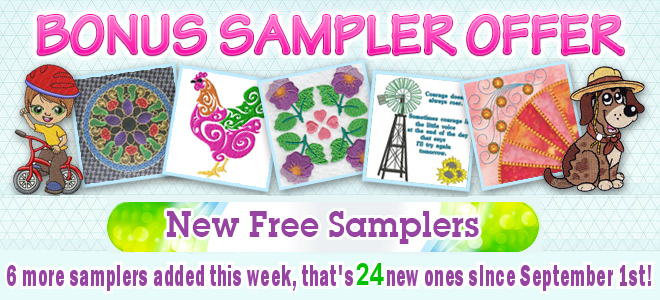 1) When selecting an embroidery machine, be sure to research the make and model thoroughly from users of the same machine, and opt for a machine that will provide the largest embroidery field you can afford. In the long run, it will save you money.

2) It's a good idea to take your machine in at least every 2 years (and some say every year) for that extra bit of cleaning your machine could benefit from, as well as any adjustments that might be necessary.

Do you have a quick solution or idea to share? Email us at support@oregonpatchworks.com

Great designs are exclusively available in the member's area. You need to log in to get them.
Login Instructions:
Go HERE, and type in your email address. Click the image below "Exclusive Samples" heading. On the next page, click the different months to download designs. . To view each digitizer's page, click the images or their names below. Check back often, new samples are added weekly!

The designs below will be available soon. Check out other great designs by the same designer by clicking the images.

We have fun activities that you can enjoy in the MOC. Login HERE, click the link under Sensational Samples, then find the references to Mystery Design and Challenge Question.
The four designs below are available this month.
| | | | |
| --- | --- | --- | --- |
| | | | |
| Search & Find Design | Challenge Question Design | Search & Find Design | Mystery Design |
| Hidden in | | Hidden in | Hidden in |
| | | | |

ENTER THE DRAWING
We want to see your projects! Send us good quality photos and get entered into drawing for 60-100 designs from Silver Threads Golden Needles. We have a new drawing once a month. You can enter multiple projects during the month to increase your chances of winning! INSTRUCTIONS to enter the drawing are below this week's entry images.
INSTRUCTIONS
Send your entry to support@oregonpatchworks.com> with the following:
1. Your name and email.
2. The digitizer of the designs you used on your project.
3. The collection the designs came from.
4. A paragraph about your experiences doing your project.
5. The STGN pack of designs you want if you are chosen as the monthly winner. You can see the packs from HERE.
THIS WEEK'S FEATURED CUSTOMER PROJECT
Designs by OMA'S PLACE
Here is a Ginger Cup Mug Rug, Ginger Snack Mat and another mug rug (a bonus download!) I made today. I just purchased these designs the other day. They are from Oma's Place. I love how they turned out. Catherine

| | |
| --- | --- |
| | Merry Christmas from MM Embroidery . Enjoy this darling snowflake stocking (with full instructions) by going to Michele's webpage and downloading it from there. Check out her fantastic projects while you are there! |

This great alphabet is by Heav'n Sent Creations . Each week, we will put three new letters up on Heav'n Sent Creations website for you to download. Go to their section and look around while you are there!