Need to register a new email address? Click HERE.

Volume 534 January 16, 2017

Help us grow on Google, write a review (please include a text message, along with "stars"): http://tinyurl.com/OregonPatchWorks



The scripture here is King James version. Read entire chapter.

Colossians 3:12Put on therefore, as the elect of God, holy and beloved, bowels of mercies, kindness, humbleness of mind, meekness, longsuffering; 13Forbearing one another, and forgiving one another, if any man have a quarrel against any: even as Christ forgave you, so also do ye. 14And above all these things put on charity, which is the bond of perfectness. 15And let the peace of God rule in your hearts, to the which also ye are called in one body; and be ye thankful.
Dear Lord, When we have trouble forgiving those around us, fill us with your Holy spirit and cover us with grace. We choose to forgive, even when we are weak. Thank you for lending us your strength. In Jesus name, Amen
The Lord is ready and willing to listen. When you pray, just speak to Him as you do a good friend. He will answer you. He is faithful and your faith will increase as you seek Him. Need prayer? Contact Jackie

NOTE: To see the collection/single pictured, click the name of the set. To go to the designer's index page, click the offer button.To get a complete list of all the offers currently available at OPW Mall, GO HERE

1) It bears repeating that if you suffer from too much over spray when using spray adhesives, just spray your project/stabilizer inside a cardboard box, which will help keep all that sticky spray from getting on everything else nearby.

2) Stabilizers can be so confusing at times. Suggestion: Get an ordinary notebook, and list the attributes of each type of stabilizer you have, and as you use and acquire more in the future. Be sure to list what each stabilizer is used for and any special needs it has, and ALWAYS include a swatch of the stabilizer being referred to, you can put it in divider pockets, or just attach the stabilizer sample to a blank spot on the information page, using tape or a staple.
Do you have a quick solution or idea to share? Email us at

[email protected]

EVERY ORDER MEANS EXTRA DESIGNS EMAILED TO YOU! (CLICK THE IMAGE ON LEFT FOR INSTRUCTIONS).

Spend $10 - Get 2 surprise designs!

Spend $11-25 - Get 5 surprise designs!
Spend $26-50 - Get 10 surprise designs!
Spend $51-74 - Get 15 surprise designs!
Spend $75 or more - Get YOUR CHOICE of an archive (50-100 designs)!

We have many great offers all the time! It is especially important to check at the beginning of the month, as many offers change at that time. Currently, many of the sites are on sale at OPW Mall with promotions, discounts and gifts for you. This is the page to bookmark.

We are so proud of our new thread line! Each spool has a matching bobbin that fits perfectly in the base for safe storage. There are a total of 208 colors (you can download a pdf color chart or order one that shows you actual thread of each color). This is beautiful, high quality polyester and each 1100 yd spool is only $3.25! Or get even more when you buy the kits! Check it out!

This great alphabet is by Enigma Embroidery. We will post 3 new letters each week...enjoy!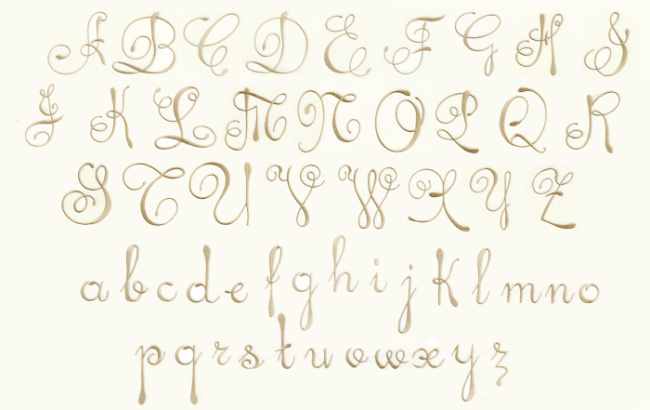 Great designs are exclusively available in the member's area. You need to log in to get them.
Login Instructions:
Go HERE, and type in your email address. Click the image below "Exclusive Samples" heading. On the next page, click the different months to download designs. . To view each digitizer's page, click the images or their names below. Check back often, new samples are added weekly!

We have fun activities that you can enjoy in the MOC. Login HERE, click the link under Sensational Samples, then find the references to Mystery Design and Challenge Question.
The four designs below are available this month.
| | | | |
| --- | --- | --- | --- |
| | | | |
| Search & Find Design | Challenge Question Design | Search & Find Design | Mystery Design |
| Hidden in | | Hidden in | Hidden in |
| | | | |