| | |
| --- | --- |
| Need to register a new email address? Click HERE. | Volume 410 July 25, 2014 |
Want to receive the newsletter via email plus get new FREE designs weekly? Sign up HERE.
DESIGNERS OF THE WEEK OFFERS

COLOSSIANS 3
12 Put on therefore, as the elect of God, holy and beloved, bowels of mercies, kindness, humbleness of mind, meekness, longsuffering;
13 Forbearing one another, and forgiving one another, if any man have a quarrel against any: even as Christ forgave you, so also do ye.
14 And above all these things put on charity, which is the bond of perfectness.
15 And let the peace of God rule in your hearts, to the which also ye are called in one body; and be ye thankful
Dear Lord, Thank you for giving us such clear directions in how we can best please you. Give us the strength to walk in your Light, no matter what our circumstances are. Thank you for the blessings and also the challenges, that strengthen us and give us more patience and love for our fellow man. We CHOOSE to serve you in love and truth. In Jesus name. Amen
The Lord is ready and willing to listen. When you pray, just speak to Him as you do a good friend. He will answer you. He is faithful and your faith will increase as you seek Him. If the scripture is hard to understand in the King James version (above), try reading it in the New Living Translation version Here Put the chapter you'd like to view in the search and it will take you to it. Need prayer?

Contact Jackie
NEWEST COLLECTIONS OR SINGLES ADDED THIS WEEK
Every week we have new designs to choose from, below are the sets/singles added this week. Click the images or names to see the index pages of the designers.
SEWAZ DESIGNS
DESIGNS BY JANET SANSOM
FROM THE NEEDLE OF ANNE
HATCHED IN AFRICA
OMA'S PLACE
SWEET HEIRLOOM EMBROIDERY

ACE POINTS
MIMI'S SEWING STUDIO
ENIGMA EMBROIDERY
PREMIUM EMBROIDERY DESIGNS
JHB CREATIONS
EMBROIDERY PLAYGROUND

MARGARET'S DESIGNS
DESIGNS BY LIZETTE
V-STITCH
EMBROIDERY DELIGHT
ORIENTAL-EMBROIDERY
GOLDEN NEEDLE DESIGNS

STITCHBOX CREATIONS
EMBROIDERY 31
U AND I UNIQUE EMBROIDERY
INSPIRATION MUTZ
HENNESSY EMBROIDERY
KREATIONS BY KARA
GIFTS FOR YOU - ALPHABET SERIES
A beautiful alphabet series by Sunshine Embroidery. Each week, we will put three new letters up for you to download until you have the complete set! Click the link above to go to the site, where you will see this week's image with download instructions. Be sure and look around, Susan has BEAUTIFUL designs!
Below are some of the designs coming soon. Click the images to go to each section of our awesome digitizers and see the rest of their great designs already up for you to see! The ones below aren't on the pages yet, but will be within the next week or two.
EXCLUSIVE SAMPLES - ADDED WEEKLY
Great designs are exclusively available in the member's area. You need to log in to get them.
Login Instructions:
Go HERE, and type in your email address. Click the image below "Exclusive Samples" heading. On the next page, click the different months to download designs. . To view each digitizer's page, click the images or their names below. Check back often, new samples are added weekly!
Do you have a quick solution or idea to share? Email us at support@oregonpatchworks.com
1) Question: I do alot of paper piecing to use up fabric scraps. It is quite a job to tear away all the paper. Is there any place that you can purchase wash-away sheets that can be printed on. Answer: Dritz makes a product called Wash Away Foundation Paper. JoAnn Fabrics carries it.
2) Old jewelry boxes are great ways to store your tiniest notions in an eye-pleasing manner. If the lining has gone bad, simply re-line with sticky back felt..
SLearn how to make a great Western Gypsy Bag, by watching the video HERE. The bag features Golden Needle Designs new collection - Carved Hearts Designs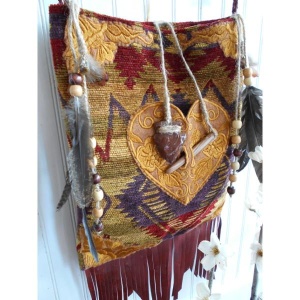 CUSTOMER CORNER - ENTER THE DRAWING
We want to see your projects! Send us good quality photos and get entered into drawing for 60-100 designs from Silver Threads Golden Needles. We have a new drawing once a month. You can enter multiple projects during the month to increase your chances of winning! INSTRUCTIONS to enter the drawing are below this week's entry images.
Designs by Oms'a Place
Thank you, Irene, file received.... LOVE the pepper coasters! They were so much fun! The designs are by Oma's Place, they are called Pepper Mug Coasters. Check out the Pepper Hot Pads and Pepper Applique set! They are all so bright and cheery! Bibi
INSTRUCTIONS TO ENTRY DRAWING
Send your entry to support@oregonpatchworks.com with the following:
1. Your name and email.
2. The digitizer of the designs you used on your project.
3. The collection the designs came from.
4. A paragraph about your experiences doing your project.
5. The STGN pack of designs you want if you are chosen as the monthly winner. You can see the packs from HERE.
We have two memberships you can join to get top quality designs at a low, low price. Each month, we have fun embroidery designs and projects for you. Join now and watch your stash of beautiful new designs grow!
| | | |
| --- | --- | --- |
| | | Get 60-100 top quality designs plus project tutorials for only $18 !! Click HERE to view May's designs! |
| | | Get 20 new exclusive designs each month for only $10, and MORE... for Members Only - Specialty packs-Get 2 and choose another at no cost! Specialty packs are grouped by themes. Click HERE to view this month's designs. |
NEW FUN ACTIVITIES EACH MONTH
We have fun activities that you can enjoy in the MOC. Login HERE, click the link under Sensational Samples, then find the references to Mystery Design and Challenge Question.
The four designs below are available this month.
Search & Find design
challenge Question design
Search & Find design
Mystery Design

hidden in

in the moc area
hidden in

hidden in

ALINALINE
by ORIENTAL-EMBROIDERY
DESIGNS BY LIZETTE
INSPIRATION MUTZ
As a member of the MOC, you can either get the newsletter only once a week or get the newsletter plus "Target Ads", sent as individual emails announcing more great deals. Below are the target ads sent this last week.