| | | |
| --- | --- | --- |
| We send the weekly newsletters every Monday. Sign up | | Volume 546 April 17, 2017 |


New designers of the week are listed every Friday. It is a great time to check out what is new and stock up on their new designs!

The scripture here is King James version. A good source for any version is Bible Gateway.
John 2:22 When therefore he was risen from the dead, his disciples remembered that he had said this unto them; and they believed the scripture, and the word which Jesus had said.

Romans 8:1 There is therefore now no condemnation to them which are in Christ Jesus, who walk not after the flesh, but after the Spirit.

Romans 8:34 Who is he that condemneth? It is Christ that died, yea rather, that is risen again, who is even at the right hand of God, who also maketh intercession for us.
Colossians 3:1 If ye then be risen with Christ, seek those things which are above, where Christ sitteth on the right hand of God.
Dear Lord, We come before you with humble hearts, as we remember the sacrifice you made for all of us, when you gave yourself as ransom for our sins. Now we are forgiven and can live life without the weight of our sinful nature, as we choose to walk with you, instead of in darkness. Help us all to see that even though it seems like a burden as we view it from the outside, our burdens become light, as we choose to serve you. Open our eyes and show us how to live a good life, according to the will of God. In Jesus name, Amen
The Lord is ready and willing to listen. When you pray, just speak to Him as you do a good friend. He will answer you. He is faithful and your faith will increase as you seek Him. Need prayer? Contact Jackie

NOTE: To see the collection/single pictured, click the name of the set. To go to the designer's index page, click the offer button.To get a complete list of all the offers currently available at OPW Mall, GO HERE

1) If your needles keep breaking, even though you've changed them, and know that you're inserting the needle correctly, and that the needle is not bent, consider taking your machine in for a tune up, since the timing may be off.


2) If your pattern outlines are not lining up with your fills, this could be due to loose hooping. Your embroidery base (fabric, etc.) should be taut in the hoop.
Do you have a quick solution or idea to share? Email us at

[email protected]

| | |
| --- | --- |
| | We have many great offers all the time! It is especially important to check at the beginning of the month, as many offers change at that time. Currently, many of the sites are on sale at OPW Mall with promotions, discounts and gifts for you. This is the page to bookmark. |
| | We are so proud of our new thread line! Each spool has a matching bobbin that fits perfectly in the base for safe storage. There are a total of 208 colors (you can download a pdf color chart or order one that shows you actual thread of each color). This is beautiful, high quality polyester and each 1100 yd spool is only $3.25! Or get even more when you choose the kits! Check it out! |

This great alphabet is by Crafty Creations. We will post 3 new letters each week...enjoy!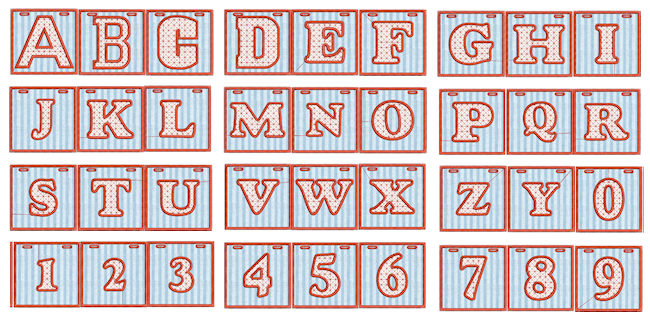 Great designs are exclusively available in the member's area. You need to log in to get them.
Login Instructions: Go HERE, and type in your email address. Click the image below "Exclusive Samples" heading. On the next page, click the different months to download designs. . To view each digitizer's page, click the images or their names below. Check back often, new samples are added weekly!

We have fun activities that you can enjoy in the MOC. Login HERE, click the link under Sensational Samples, then find the references to Mystery Design and Challenge Question.
The four designs below are available this month.
| | | | |
| --- | --- | --- | --- |
| | | | |
| Search & Find Design | Challenge Question Design | Search & Find Design | Mystery Design |
| Hidden in | | Hidden in | Hidden in |
| | | | |
Need to register a new email address? Click HERE.
DISCLAIMER: WE DO OUR BEST TO NOT MAKE ERRORS. IN THE EVENT OF AN ERROR, WE HAVE THE RIGHT TO DEFAULT TO THE INTENDED PRICE AND NOT BE HELD ACCOUNTABLE TO THE ERROR.
WE HONOR A NO-SPAM POLICY. AS A MEMBER OF THE MOC AT WWW.OREGONPATCHWORKS.COM, YOU GET A WEEKLY NEWSLETTER EMAIL, NEW SAMPLES AVAILABLE TO MEMBERS ONLY, AND ANNOUNCEMENTS OF DISCOUNTS, SAVINGS AND EVENTS.