Need to register a new email address? Click HERE.

Volume 517 August 22, 2016

Help us grow on Google, write a review (please include a text message, along with "stars"): http://tinyurl.com/OregonPatchWorks



The scripture here is King James version.

Isaiah 52:7How beautiful upon the mountains are the feet of him that bringeth good tidings, that publisheth peace; that bringeth good tidings of good, that publisheth salvation; that saith unto Zion, Thy God reigneth! 8Thy watchmen shall lift up the voice; with the voice together shall they sing: for they shall see eye to eye, when the LORD shall bring again Zion. 9Break forth into joy, sing together, ye waste places of Jerusalem: for the LORD hath comforted his people, he hath redeemed Jerusalem. 10The LORD hath made bare his holy arm in the eyes of all the nations; and all the ends of the earth shall see the salvation of our God. 11Depart ye, depart ye, go ye out from thence, touch no unclean thing; go ye out of the midst of her; be ye clean, that bear the vessels of the LORD. 12For ye shall not go out with haste, nor go by flight: for the LORD will go before you; and the God of Israel will be your rereward.
.Dear Lord, Thank you for laying out your plans for us and giving us a hope and a future. Help us keep our eyes on you and not get caught up in the fear and strife that seems to be all around us. Keep us calm and guide our every step. In Jesus name, Amen
The Lord is ready and willing to listen. When you pray, just speak to Him as you do a good friend. He will answer you. He is faithful and your faith will increase as you seek Him. Need prayer? Contact Jackie

NOTE: To see the collection/single pictured, click the name of the set. To go to the designer's index page, click the offer button.To get a complete list of all the offers currently available at OPW Mall, GO HERE

The designs below will be available soon. Check out other great designs by the same designer by clicking the images.

Send us your favorite recipe and we'll share it here on the newsletter. Send your entry to support@oregonpatchworks.com Let us know how you like the recipes posted!
Just Like Cheesecake
Crust:
2 cups raw macadamia nuts
1/2 cup dates, pitted (I use medjools)
1/4 cup dried coconut
Cheese:
3 cups chopped cashews, soaked for at least 1 hour
3/4 cup lemon juice
3/4 cup honey
3/4 cup coconut oil (I only use Virgin coconut oil )
1 teaspoon vanilla (I use raw organic, alcohol free)
1/2 teaspoon Celtic sea salt (optional)
Raspberry sauce:
1 bag frozen raspberries
1/2 cup dates
Directions:
To make the crust, process the macadamia nuts and dates in the food processor. Sprinkle dried coconut onto the bottom of an 8 or 9 inch springform pan (found in Target). Press crust onto the coconut. This will prevent it from sticking.
To make the cheese, blend the cashews, lemon, honey, gently warmed coconut oil (do not use microwave), vanilla, sea salt (if using), and 1/2 cup water. Blend until smooth and adjust to taste. Pour the mixture onto the crust. Remove air bubbles by tapping the pan on a table. Place in the freezer until firm. Remove the whole cake from the pan while frozen and place on a serving platter. Defrost in the refrigerator. (I've never defrosted fully)
To make the raspberry sauce, process raspberries and dates in a food processor until well blended. (Do not use a blender for this or the raspberry seeds will become like sand.) As with any recipe, you may want to play with it until it suits you.
Makes: 24 slivers YUM!!!

1) Create tiny doll quilts for little girls dollies with your test designs! Most test designs may not be perfect, yet many are salvageable for several purposes. One is to save them and then create a simple, fabric border around the test design (like a single quilt block) add a thin layer of batting, backing and voila, a no waste doll quilt!



2) Christmas ornament idea! Save up your prettiest snippets, be they thread or fabric. When you have saved up a fair amount, go to your favorite craft store and purchase clear acrylic or glass ornaments, then fill each with some of your saved snippets. Add further holiday *bLiNg* by adding beads, glitter or whatever you wish.

Do you have a quick solution or idea to share? Email us at support@oregonpatchworks.com

We have many great offers all the time! It is especially important to check at the beginning of the month, as many offers change at that time. We currently have 85 sites at OPW Mall with promotions, discounts and gifts for you. This is the page to bookmark.
Download Helpful Hints for Jumbo Hoop Designs by Heav'n Sent Creations. Click the image at the left to visit Loronda's site.
We are so proud of our new thread line! Each spool has a matching bobbin that fits perfectly in the base for safe storage. There are a total of 208 colors (you can download a pdf color chart or order one that shows you actual thread of each color). This is beautiful, high quality polyester and each 1100 yd spool is only $3.25! Or save even more when you buy the kits! Check it out!
This great design is "hidden" on one of the pages in Aljay Designs section. Find it and download it as our gift to you!
Get this cute design when you place an order from Lickity Stitch

This great alphabet is by Heav'n Sent Creations. We will post 3 new letters each week...enjoy!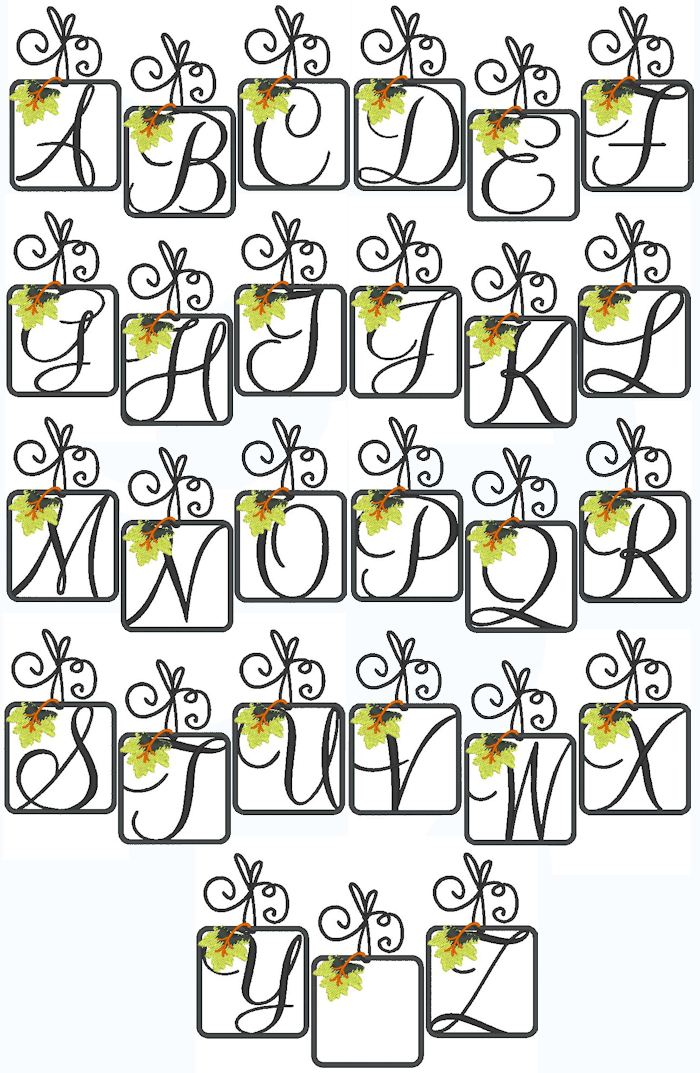 Great designs are exclusively available in the member's area. You need to log in to get them.
Login Instructions:
Go HERE, and type in your email address. Click the image below "Exclusive Samples" heading. On the next page, click the different months to download designs. . To view each digitizer's page, click the images or their names below. Check back often, new samples are added weekly!

We have fun activities that you can enjoy in the MOC. Login HERE, click the link under Sensational Samples, then find the references to Mystery Design and Challenge Question.
| | | | |
| --- | --- | --- | --- |
| | | | |
| Search & Find Design | Challenge Question Design | Search & Find Design | Mystery Design |
| Hidden in | | Hidden in | Hidden in |
| | | | |