| | |
| --- | --- |
| | Philippians 2:1If there be therefore any consolation in Christ, if any comfort of love, if any fellowship of the Spirit, if any bowels and mercies, 2Fulfil ye my joy, that ye be likeminded, having the same love, being of one accord, of one mind. 3Let nothing be done through strife or vainglory; but in lowliness of mind let each esteem other better than themselves. 4Look not every man on his own things, but every man also on the things of others. |
Dear Lord, Our human nature is to think of ourselves first. We want to follow your Word and esteem others better than ourselves. Fill us with your Holy Spirit and give us the knowledge and strength to humble ourselves before you and to love one another as you have commanded us to do. Create in us a heart that is pure and righteous and chooses what is good. In Jesus name, Amen
The scripture here is King James version.
The Lord is ready and willing to listen. When you pray, just speak to Him as you do a good friend. He will answer you. He is faithful and your faith will increase as you seek Him. Need prayer? Contact Jackie

NOTE: To see the collection/single pictured, click the name of the set. To go to the designer's index page, click the offer button.To get a complete list of all the offers currently available at OPW Mall, GO HERE

1) If your top thread keeps breaking, make sure that your thread is not winding around the spool edge, or the spool pin. If it is, consider using a larger spool cap, or a thread stand when using that particular spool of thread.

2) If your thread is looping on the under side of the fabric, try re-threading both the top and bottom thread, most of the time, as silly and obvious as this sounds, it's going to solve the problem. Beyond that, try increasing the top thread tension in small increments, test, check the reverse side of your stitching, keep adjusting until you achieve balance in the top and bottom threads.
Do you have a quick solution or idea to share? Email us at

[email protected]

| | |
| --- | --- |
| | We have many great offers all the time! It is especially important to check at the beginning of the month, as many offers change at that time. Currently, many of the sites are on sale at OPW Mall with promotions, discounts and gifts for you. This is the page to bookmark. |
| | We are so proud of our new thread line! Each spool has a matching bobbin that fits perfectly in the base for safe storage. There are a total of 208 colors (you can download a pdf color chart or order one that shows you actual thread of each color). This is beautiful, high quality polyester and each 1100 yd spool is only $3.25! Or get even more when you buy the kits! Check it out! |

This great alphabet is by Crafty Creations. We will post 3 new letters each week...enjoy!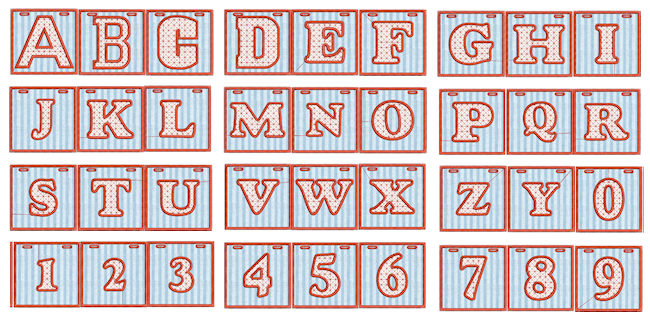 Great designs are exclusively available in the member's area. You need to log in to get them.
Login Instructions:
Go HERE, and type in your email address. Click the image below "Exclusive Samples" heading. On the next page, click the different months to download designs. . To view each digitizer's page, click the images or their names below. Check back often, new samples are added weekly!

We have fun activities that you can enjoy in the MOC. Login HERE, click the link under Sensational Samples, then find the references to Mystery Design and Challenge Question.
The four designs below are available this month.
| | | | |
| --- | --- | --- | --- |
| | | | |
| Search & Find Design | Challenge Question Design | Search & Find Design | Mystery Design |
| Hidden in | | Hidden in | Hidden in |
| | | | |
Need to register a new email address? Click HERE.