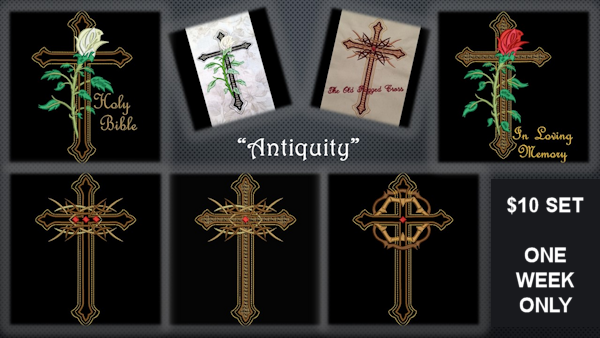 "Antiquity" is a set of 5 original artwork crosses with a set of 5 accompanying quotes: Holy Bible, In Loving Memory, For God So Loved The World, The Old Rugged Cross and The Lord is my Shepherd. Get these special designs for only $10 through next Thursday only at midnight.
AngelBaby811 - Get 50% off all designs
Beautiful designs with messages are great embroidered on sweatshirts, tshirts or pajamas. Or make a framed piece of stitchart for your loved one for Valentines Day. 5x7 hoop

Allstitch - Get 50% off all designs

Instructions to make these hearts are included. Fun to make! Hang them on doors, in window or add one as a gift card - Use organza fabric and fill with potpourri or use as a pin cushion! Many uses in many colors! 5x7

Allstitch - Get 50% off all designs

Ten adorable Valentine elephants are sew delightful. In a light shaded stitch technique, they are perfect for gift cards, baby blankets and onsies, bibs, pillow cases and childrens clothing. 4x4 hoop

You will enjoy this classic collection of roses, hearts and doves. You get 10 exquisitely detailed designs that are lovely on any project. Use as an accent on a favorite sweater or create beautiful linens. 4x4 hoop
Machine Embroidery Designs & Supplies
At OPW Mall, we offer you embroidery quality products, courteous service and the best values on the internet with a complete online embroidery design library at your fingertips!
We are The OPW Mall and offer high quality machine embroidery designs, supplies and services. Check out the amazing designs assortment...appliqué, cross stitch, free standing lace, vintage embroidery, etc. We also carry digitizing tutorials, software , Marathon rayon thread, hot fix wands and embellishments including Swavorski® Rhinestones, quilt templates, and much more!
We now carry our own line of high quality Polyester Embroidery Thread and will be adding more soon
Whether you are just beginning to sew or are an experienced professional seamstress or embroiderer, you will find what you are looking for in our fun marketplace. There are many brands of sewing, quilting and embroidery products. We have almost every type of design you can think of, frequent specials for extra savings and exclusive free machine embroidery designs!
We offer instant electronic delivery so you can download your order immediately after your purchase or you can order a backup CDs. You'll find loads of free designs and tutorials throughout Oregon Patchworks.
OregonPatchWorks, where your dreams become a reality, one stitch at a time!
At OregonPatchWorks, you are always #1! We consider you the most important part of our business. That is why we offer quality for sale and free machine embroidery designs, excellent sewing and quilting products and "service with a smile!".
We welcome you to contact us anytime.
Silver Threads Golden Needles Club
Download 60 or more beautiful embroidery designs plus projects when you become a memeber! Each month, download another 60-100 top quality embroidery designs plus new projects in the monthly pack! Membership is only $18 per month.
Premium Embroidery Membership Club
Get a NEW 20-design Variety Pack each month for only $10!
Choose from optional specialty packs from 5 category packs (Realistic, Redwork, Quiltblocks, Free Standing Lace, and Florals)! New selections every month!
Buy 2 design packs and get another one FREE!
Join Our FREE Members Only Club!
Members receive exclusive access to new free embroidery designs added weekly to the members' area as
well as our weekly newsletter and promotions!
We hope you enjoy your visit! We love God, machine embroidery designs and you!